Fast schon Endspurt, weil im Vortrags-Block 4 hab ich dann deutlich weniger mitgeschrieben… Gleiches System wie bei Teil 1 und Teil 2: Tweet-Live-Ticker, bereinigt (hoffentlich) um Redundanzen, allesamt Wirtschaftsblatt-Tweets (Dank an @kcabana & @wiblatt), nur jene, die ich mit [nk] gekennzeichnet hab, stammen von meinem Privat-Account. Fotos once again: Courtesy of TEDxVienna.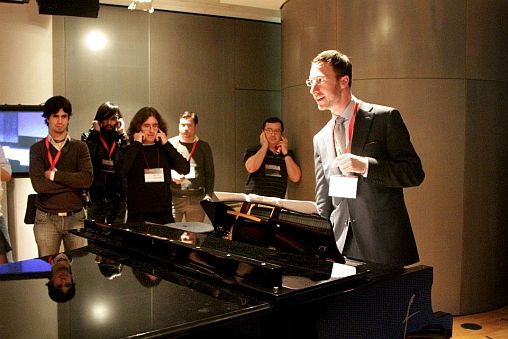 Albert Frantz:
Großartiger Workshop in der Pause über sie Sprache der Musik. "Music is sound organized in time" sagt Albert Frantz.
[nk] Da geht man harmlos zu #Tedxvienna und dann muss man den Hamlet Monolog auf Englisch vorsprechen. #uff
Albert Frantz kann übrigens hier kontaktiert werden: http://bit.ly/mV11gm #musicworkshop

Table Connect Team:
Next up: Table Connect Team @ #tedxvienna. Erste Live Präsentation. Check the livestream – NOW!!
Table Connect Team: Großes Kino! Pyrotechnik & Rauch und ein viraler Fake Stunt Deluxe!
Table Connect Team präsentiert nicht "ideas woth spreading" sondern "ideas worth faking"
Die Burschen zeigen ihr Making-Of. Hoffentlich stellen sie das auf youtube… How to FAKE an iPhone Table?
"We knew that having a giant iPhone really is a good USP for a viral hit"
"We had a good plan how to attract the media, make them greedy… every notable news site reported on the story!" – Beispiel gefällig? Der Standard über Table Connect
Hier das Original-Video: http://youtu.be/TCbSwOgNzZg – "One of the greatest viral hits from Austria – EVER!"
"Aber war es ein Erfolg?" fragen sich die Table Connect Burschen, weil sie einen Riesenhit hatten & es niemandem sagen konnten
Standing Ovations für das Table Connect Team
Sie verabschieden sich mit Steve Jobs Zitat: "Stay hungry, stay foolish" – Table Connect Team: "We proved to be incredibly foolish already and we're hungry for the next project!"
P.S. Sehenswert. RT @LOASTUDIO: Just presented our viral hit at TEDxVienna http://iphonetable.blogspot.com/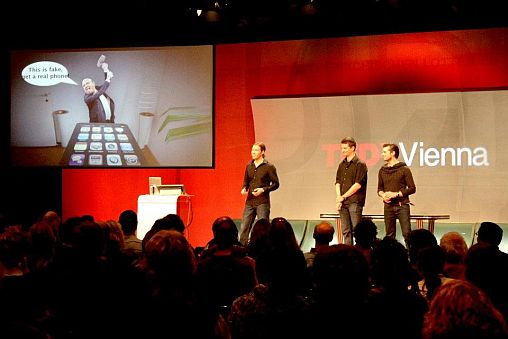 Ron Gutman:
Leyla Tavernaro-Haidarian:
Leyla Tavernaro-Haidarian über die Kultur des Wettbewerbs in unserer Gesellschaft. Vortrag: "Beyond King of the Mountain"
"Ubuntu = A South African term meaning a sense of collectivism. Translation: I am because we are."
Tavernaro-Haidarian präsentiert "ubuntu" als Gegenkonzept zu einer Wettkampf/Wettbewerb-betriebenen Gesellschaft
"Nur in Gemeinschaft können einzelne Elemente ihr volles Potential entfalten, nicht im Wettstreit, sondern im Zusammenspiel"
"complementary interests" statt "conflicting interests" sagt sie
"Maybe we should think less about the care package we send to other countries and think more about the sort of SPIRITUAL care packages these countries have to offer!"
Niko Alm:
Up next: "Pastafari" Niko Alm über den Spaghetti-Monster-Incident – siehe: http://bit.ly/rfVlcg
"I DO believe in the Flying Spaghetti Monster" insistiert Niko Alm
"Wenn Religion ein Schlupfloch im Gesetz generiert, widerspricht das dem Grundsatz, dass vor dem Gesetz ALLE gleich sind"
Niko Alm über den "synkretistischen Staat", nennt Österreich als Beispiel.
Sein Credo: "Freedom of religion is abused to create [legal] inequalities" (via @r8r)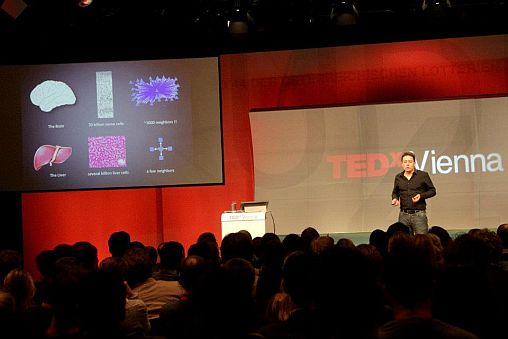 Moritz Helmstädter:
Next: Moritz Helmstädter (Max Planck Institut für Neurobiologie) vergleicht Äpfel mit Birnen… äh… nein, mit Elektronen ;)
[nk] Yeah. Dance Performance von ImPuls Tanz = ideal zum iPhone aufladen :)
[nk] Freue mich schon auf @corinnamilborn im 4. Teil von #tedxvienna!
Hier geht's zu TEIL 1 und TEIL 2 — der 4. (und letzte) TEIL folgt…